Our Mission
Our mission is to save pet owners from a broken heart and pets from an ill fate!
Pet*iD Short Cut Home is dedicated to helping reunite lost pets with their true owners, by making it as easy as possible for the person who finds your pet to help you get your pet back home.
Your pet's information can be accessed through the Pet*iD web site.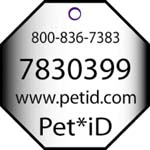 Pet*iD Short Cut Home works in real time, and gives you the tools you need to update your pet's information, from anywhere in the internet world 24/7 even after your pet has gotten lost.
When someone finds your pet, they can get up to date information necessary to contact you through the Pet*iD Short Cut Home website or our 800 number.
By placing a Pet*iD tag on your pet, you will be using the most versatile, interactive Back-Tracking System available today.
Pet*iD is faster, more reliable and easier to update than any other system out there, bar none, including the electronic chip.
Pet*iD is rapidly becoming veterinarians' first choice.